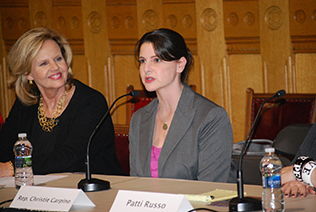 Carpino Proposes Bill to Segregate Death Row Inmates
The bill would require inmates "convicted of the class A felony of murder with special circumstances and sentenced to life imprisonment without the possibility of release be segregated from the general inmate population and serve their sentences in similar living conditions as inmates on death row."
"My constituents are concerned future violent criminals, those we deem 'the worst of the worst,' will have no deterrent if put in general population instead of a severe segregation similar to those currently on death row," Carpino, who toured the Supermax prison in Somers and level four facility in Cheshire in December, said in a press release.
"While the legislature voted to repeal the death penalty, there was no agreement that future capital felony murderers should be placed in the general population," Carpino said in a press release. "They should not be permitted to socialize and mix with other inmates. If you commit a violent and heinous act, you should face a severe penalty."
The proposed bill was referred to the Joint Committee on Judiciary Jan. 9. Carpino said she hopes to have a Judiciary Committee public hearing on the bill in the next few months.
Earlier this month Carpino hosted "Office Hours" at Cromwell Town Hall, where she met with Cromwell and Portland residents who shared their concerns, mostly regarding state spending, firearm laws and treatment for those with mental health problems.
"As the legislative session moved forward, I hope that we will be able to work together as a General Assembly to make progress in improving the state's financial condition, which is essential for addressing their concerns," Carpino said.
Carpino also recenty sat on a Connecticut Woman's Council panel discussion, which centered on whether there are still roadblocks for women who run for office, to which, recalling her own experience running for office, she assessed, "Women face many challenges and barriers in politics but my message to the women in the audience is that these obstacles can be overcome. If you want to serve your community, do not let someone else define you."