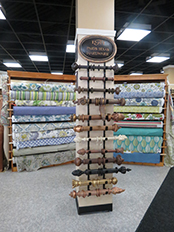 Mila Fabric and Design Center
Harvey Sprung is the second-generation owner of Mila Fabric and Design Center, which his father started as a fabric store when the Wethersfield Shopping Center first opened. Since then, the store has become a custom interior destination and, about eight years ago, moved across the street and is still located on the Silas Deane Highway.
"We allocate the whole store to custom design--custom upholstery work, slipcovers, drapery treatments, bedspreads--anything and everything that goes with the home," Sprung said.
Mila Fabric carries interior blinds from Hunter Douglas, Kirsch hardware, Paris Texas Hardware and a full line of trimmings and complete decorating services, working with its own team of sales, installers, upholsterers and sewers.
"We will build custom furniture for you. If you have an area that you can't get a sofa in a specific size--or ottomans or chairs--we'll build it right up from scratch," Sprung said.
Mila Fabric also reupholsters existing furniture.
"The thing we find is the old furniture is better than new furniture--the framing, interior and sizing is better to fit within homes. The new furniture is way, way too big and sometimes it doesn't even get through doors," Sprung said. "If you like your style and you like your size, it'll all come back fresh as a bunny. It does pay to redo your furniture."
The team at Mila Fabric and Design Center is happy to help with an entire room renovation, even making recommendations for paint color.
"We have many repeat customers that will just say, 'What do you think?'" Sprung said. "They've reached the point where they're very comfortable with us so they let us guide them in a direction that we feel comfortable that they'll be comfortable with."
Usually clients will bring in a photo of the space they are working with, as well as an idea of color scheme. The staff at Mila Fabric will help them narrow down the choices from there. After a room is completed, it's usually not long before the client wants to move on to the next.
"It's a 10-year cycle," Sprung said with a laugh. "They'll do a room, then room B, then room C, then eventually room A gets back done in 10 years."
Mila Fabric also offers exterior pillows and cushions, as well as sells fabric by the yard.
Mila Fabric and Design Center, 976 Silas Deane Hwy., Wethersfield, can be reached at 860-529-7571, or visit
www.fabricdesigncenterct.com
.