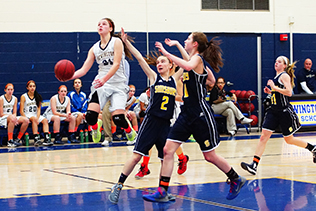 Relentless Defense Keys Indians Girls Basketball Victory
Before the rematch, staged on the Richard E. Rogalski hardwood Jan. 31, Indians head coach Rick Bangs "told Kayla that Simsbury hasn't really seen you yet, so you owe them a game tonight."
Guest responded with physical play on both sides of the ball, disrupting the visitors' game plan as she hustled for steals, banged the offensive and defensive glass, drove to the hoop through the Simsbury defense and hit from long range. She gave the Trojans all they could handle and more, leading all scorers with 19 points, while adding nine rebounds and five steals as Newington improved to 9-5 with the 44-21 CCC West victory. Simsbury, which came into the game averaging 50.1 points-per-outing, is 11-4 after the loss.
"This is definitely different from the first time we played Simsbury this season, [a 30-28 Newington victory]," said Bangs. "I was not expecting this. Simsbury is a team we really respect; they're having an outstanding year and are incredibly well-coached.
"A lot went right for us tonight and sometimes when a lot goes right, you have games like this. Our defense was outstanding. Nobody has held Simsbury under 40 points this year and we've held them under 30 twice. When we play defense like that, teams just can't score. We played great defense and that's where it started."
Guest, a 5'9" powerhouse forward, scored 15 points before halftime. She came out strong and scored Newington's first four baskets, taking a steal coast-to-coast for a lay up, followed by a jumper off of the glass. Her reverse lay up and baseline jump shot knotted the game at 8-8 with 2:54 left in the opening chapter after Simsbury had pulled ahead, 7-4. Senior Stasha Greenalch assisted on Stephanie Kowalski's bucket to close out the first quarter and put Newington up, 10-9.
Guest canned a jumper from junior Julie Iskra before drilling a three-pointer from downtown to beat the buzzer and send the Indians into the break with a 22-13 lead.
Senior guard Ashleigh Beauford scored Newington's first hoop of the second half on a put back. Greenalch notched an assist on a Guest basket and then scored two-straight buckets, the last set up by Iskra's steal, to propel the Indians to a 30-19 lead as the third chapter closed.
"Stasha was maybe a little frustrated early in the game with the defense and she started doing other things really well and then the game started to come to her," Bangs said. "Part of being a very good player is that you learn to do the other things you do really well, like defending first and passing, and then the shots open up for you and you start to take the game over."
The 5'8" Greenalch found the basket three times in the final period to finish the night with 14 points. She used a Guest steal to knock down a trey, beat the Simsbury defense to make it a 35-19 ball game with 5:24 left on the clock and then turned her ninth steal into a lay up.
"Simsbury realized that they weren't going to stop the team just by stopping me," Greenalch said. "If they give me an opening, I'll take it and if they don't give me an opening, someone else will step up and find the opening.
"We work on defense every day in practice. It's based on trust and if we trust everyone on our team, we can gamble for steals and get them because we trust that everyone else will get back on defense and help out. It's also good to have someone physical, like Kayla, on our team. You gotta have the muscle."
The Indians' first-year head coach "couldn't be prouder of this team. This is the best I've felt about a win all season because of whom we beat and where they are this year. To come out and play the way we did against Simsbury means a lot for us going forward. I told Stephanie [Kowalski] when she came off of the court that she was absolutely outstanding on defense--locking down the baseline, not letting anybody in the lane and boxing their bigs out. That's a big job against a team like Simsbury. We don't face many 5'11" or 6'1" players. And we don't win tonight unless Kayla, Stasha, Stephanie, Julie, Ashleigh, everyone in our lineup, plays great."
For Guest, "the fact that we were up by nine at halftime tonight, and not down by seven at halftime like we were the first time we played Simsbury, gave us the extra oomph to keep pushing. At halftime, coach told us, 'Keep your foot on the pedal and don't let up,' and we didn't. We like to keep going, to keep pushing and playing until the buzzer. We don't play the scoreboard. We play to the buzzer and that's what I like about our team. We play as hard as we know we can, instead of playing to the scoreboard or playing to the stands."