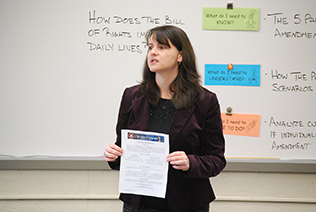 Carpino: Common Core Teacher Evaluations Need More Public Input
CROMWELL - State Rep. Christie Carpino applauds the bipartisan support to delay the new state teacher evaluation system and to establish a task force to study implementation of the Common Core of State Standards. However, Carpino demands more transparency and public input before final decisions on implementation are made.
Carpino has sat with educators and teachers in both Portland and Cromwell teachers to hear from them about the challenges they must overcome in Connecticut classrooms. Carpino has spoken with many parents concerning Connecticut's current school reforms, and even gone to far to accept an opportunity to "Walk a Day in the Shoes" and teach eighth graders in an effort to understand the concerns about the new teacher evaluations and implementation of the Common Core-all before first meeting of the Education Committee, on which she has sat for the past three years.
"I haven't spoken with a single educator that opposes the concept of the Common Core of State Standards. But, many have legitimate concerns about how and when it is being implemented and whether we have the resources in place to enable our students to succeed. If we are going to raise the academic achievement of our students, we need to give the kids and their teachers' adequate time and tools," said Carpino.
Before the Governor's announcement of sudden about-face in his quest to improve education, Carpino drafted legislation to alter and delay the current course of action when it comes to Common Core and the new teacher evaluation system.
-Delay the implementation of new teacher evaluations until further discrepancies and xxx can be corrected;
-Gradually implement the Common Core Standards in schools, instead of adopting it under one rollout;
-Re-route the $1 million the state Department of Education planned to spend on marketing the Common Core, and instead, use it towards a state-wide competitive grant program for small districts, such as Cromwell and Portland, to help implement the Common Core.
"The state Department of Education approved Common Core in 2010, without any public hearings or legislative approval. We need all invested stakeholders to work together and do what is best for our students. It is more important to do it right, than to do it quick," said Rep. Carpino.