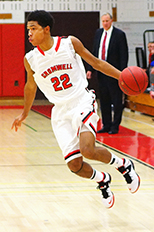 Cromwell Boys "Survive and Advance"
"Our defense won the [Immaculate] game in the third quarter. That's what we do at Cromwell. It's always defense first," said head coach John Pinone. "I'm disappointed we didn't close the game out well. We should have won by 10 or 12 points. Those last two minutes were unacceptable."
The Panthers snapped a 25-25 halftime gridlock by tallying the first seven points of the third stanza. Cromwell outscored Immaculate 10-2 in the period and kept the Mustangs out-of-sync and scoreless for a solid five minutes to carry a 35-27 lead into the final chapter.
The Panthers, who opened the fourth on a Jake Regula three-ball and upped their ante to as many as a dozen points in the fourth period, were up by 11 with just three minutes to play. Then things got dicey as Cromwell fumbled a couple of possessions and committed a pair of fouls but managed to hold off the 12th-seeded Mustangs' final charge, led by Darrius Smith, who hit a trey from the top of the key to cut lead to eight with 59.5 seconds left. John Cartagena's lone bucket of the game, a jumper with 0.24, diced the lead to six before a pair of Smith free throws carved it to four with 0.18.
Cromwell got a bit of breathing room when Matt Turkington, one of seven seniors on the Panthers, hit one of two free throws with 12.6 left on the clock.
"It was definitely good to get the win, but I thought we could have closed out the game way better than we did," said Regula, who led the #4-seeded Panthers with 18 points, including a trio of three-pointers. "I thought our defense really saved us this game. We weren't shooting the ball too well, but we were able to grind it out."
Mike McNally chipped in 13 points for Cromwell (24-2), followed by 11 from Josh Green. The victory was Cromwell's 14-straight and kept them (13-0) unbeaten in Jake Salafia Gymnasium. Joey Wallace scored a game-high 21 for Immaculate, with Smith adding 19 for the 14-9 Mustangs.
"We just don't know how to close games out. We didn't do a good job of protecting the lead tonight, but we did enough to win and that's all that matters. It might be a stretch to call this a win. We survived. It wasn't pretty, but we're going to take the result and move on. I give the kids credit. It wasn't our best night, but they hung in there mentally," said Pinone.
Green scored nine of the Panthers' first 18 points and Turkington added seven to stake Cromwell to an 18-11 lead after the opening chapter against Hyde March 12. Green converted a pair of steals into layups as he deftly picked the Howling Wolves' pockets while Regula fed Turkington, who canned shots from long range, in the paint and off of the glass.
Cromwell doubled up on Hyde, 26-13, with 4:46 left before halftime on a 5-0 run from Regula, who took a steal from senior Logan Lessard to the hole and scored a three-ball on a dish from Green. The Panthers' lead was 35-22 after 16 minutes of play.
"We came out a little slow to start the game and we knew we needed to get our energy up a little more. We talked at halftime about how we needed to play better defense. We needed to get in the passing lanes more. We needed to get the ball and go. We did a lot better job and we were more effective in the second half," said Lessard, a 6'2" forward who turned in a strong second-half performance and accounted for 10 points.
"We didn't do what we needed to in the first half--rebounding," added senior guard Mike McNally, who quietly accounted for 17 of Cromwell's points. "Some of Hyde's players were bigger and stronger than us. They got rebounds and putbacks. I don't think they had any shots in the first half--they were all layups from five feet.
"At halftime, coach told us to put the body on them. They're bigger than us so push them out of the lane if we have to. Keep going at it. Get the ball. Push the ball. Push the tempo."
Freshman Cameron Sells tallied a pair of baskets for Hyde and senior Eric Teixeira hit from deep to make it an eight-point game, 42-34, with just less than three minutes left in the third period.
"With the lead down to eight, we knew we had to make shots and play defense," McNally added.
Regula rallied his teammates, feeding Lessard for a bucket and swiping the ball and burying a trey before adding a pair of free throws to propel the Panthers ahead, 49-34 with under a minute left before the final chapter. The 5'11" Regula recorded 12 points against Hyde (11-11).
"Logan stepped it up big in the fourth quarter. He had some baskets and big rebounds which helped us out a lot," McNally said of Lessard, whose four-straight buckets pushed the Cromwell lead to 65-42.
"We came out shaky in the first half. I don't know what it was," said Green, who accounted for a game-high 18 points. "We had already beaten Hyde twice, so maybe we thought we had it in the bag. Hyde came out and gave it all they had.
"Once our one big [Matt Turkington, 10 points] got in foul trouble, we had another big [Logan Lessard] step-up. I'm proud of Logan. He had a great second half. He came in and did what he had to do. And tonight Mike [McNally] and I were feeding off of each other. I'd pass it to him and he'd lay it up. We'd get a couple of steals. We were looking out for each other."
Pinone felt his team "survived and advanced. We weren't mentally prepared to play in the first half. That's disappointing. I know we're playing the same opponent for the third time and we were successful the first two times, but that's not an excuse. It shouldn't happen. We need a better effort coming out of the gate.
"Hyde killed us on the glass. We don't box out. We're not a very physical team. We don't put bodies on people and we paid the price. We looked at their shot chart at halftime and they had one jump shot. Everything else was second chances and third chances on rebounds on missed shots. We didn't bring the intensity we needed to have. We're not that good where we can just show up," said Pinone.
"We found a way to win. This isn't about painting a beautiful picture. It's about being able to survive. You don't get any points for artistic beauty in March."