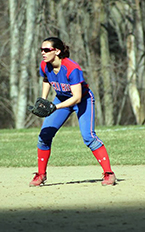 Maine-Bound Leonard Eyes One More Title
ROCKY HILL - It takes a special high school student to excel both academically and athletically. Erika Leonard has managed to achieve this while remaining humble in the process. The senior is entering her final softball season at Rocky Hill High School and, over the next couple of months, hopes to make a few more memories to add to an already memorable high school career.
"Our team is looking really good. Last year we had a lot of freshman starters and now they have that year of experience," Leonard said. "The team has really meshed and we play well together. So far we are looking pretty strong."
The right-handed Leonard is one of only three seniors on Rocky Hill's young roster, but she knows that chemistry is the most important attribute a team can have. Katie Slavin and Louisa Acca are the other senior softballers on the team's roster. The three have shared great moments and success together.
"We all get along really, really well. We have a great time, on and off the field," Leonard said about her relationship with Slavin and Acca. "We also share a state championship and that's a bond that we'll keep forever."
The Terriers' trifecta of seniors are looking to help duplicate the feat of the 2012 Rocky Hill championship team, which used talent and team chemistry en route to blanking Granby Memorial to capture the Class M crown. Leonard described this as the best moment of her time playing softball and said she would want nothing more than to close out her senior campaign in similar fashion.
"We don't want to leave our senior seasons without another ring," she said. "We are going for the state championship."
Leonard has earned All-Conference and All-Academic each of her three years and a second championship would be the cherry on the top of an already stellar high school career. The sensational shortstop, who is just as productive in the field as she is at the plate, came into her own during the team's 2012 title run. She hit .494, drove in 19 runs, and jacked three homeruns. She followed up her spectacular sophomore season by improving her batting average (.519) and also added eight stolen bases, six doubles, and another homerun to her impressive resume. She was named to the All-State team as a junior and there is no telling what kind of gaudy statistics she could post this season. However, the confident senior said she doesn't need individual accolades to motivate her.
"To me, it's not about the recognition that you get from everybody else. It's about the recognition that you get from yourself," said Leonard. "I'm not someone who needs a lot of recognition. I know that my hard work will pay off and I'm just looking to improve every year."
Leonard's years of hard work and her determination led to her being recruited by several colleges. She ultimately chose the University of Maine, where she will become the first softball player from Rocky Hill to play at a Division-I level.
"I'm excited about all the new opportunities. I have always loved softball and I can't believe that my dream of playing Division-I at such a great college is coming true," she said. "Things have fallen into place for me. I am very blessed."
At Maine, Leonard will be under the guidance of head coach Lynn Coutts, who is a former All-American softball player for the university. Coutts is currently in her third season coaching the Black Bears and is one of the reasons why Leonard chose to play in Maine.
"[The coaches] truly care about all of the players on the team," Leonard said of choosing Maine over the other schools who were recruiting her. "Also, the whole environment was great. Everybody was so friendly and I know that it's going to be a great experience for me."
Leonard will soon be taking the next step in her softball career, but there are goals that she still wants to accomplish in high school first. She also acknowledged that she will miss a lot from the place that she calls home.
"It's going to be very hard for me. I am very attached to my friend and family," she admitted. "I will really miss playing sports in high school as well. Playing softball in high school reminds me of why I started loving the sport in the first place."
Before Leonard joins her new softball family in Maine, she has one season left in her hometown of Rocky Hill. She's hoping that she can celebrate one last time with her local family and friends by helping bring another softball championship to the town where her love of softball began.