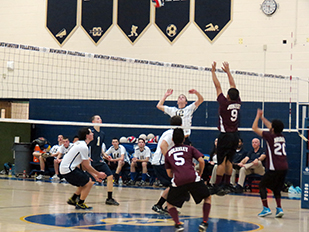 Newington Boys Volleyball Back in Their Comfort Zone
NEWINGTON - The Newington High School student population lost some size between this year and last year, prompting the boys volleyball teams' move back to Class M a year after getting tossed into the Class L.
The Indians are used to being big fish in a smaller pond, and that's true both from a league and on-court standpoint. A Newington front row that is manned by John Cloutier and Nick Hinchcliffe, each standing 6'4, according toMaxpreps, is going to be tough for teams to contend with this year, and the two showed that in the Indians' 3-0 home court rout against Bulkeley High School last Wednesday.
Cloutier and Hinchcliffe dominated the net in the Indians home opener, while senior Flavio Lici made his presence felt both there, as well as from the back serving.
The Indians set the tone early in game one, pulling ahead 14-5 on Cloutier and Hinchcliffe's spiking efforts. With the score at 13-5, Lici added back-to-back at-the-net kills of his own to stretch the lead even further.
With Newington already ahead by a substantial 21-8 margin, it was Lici again-this time from the backline. He served the Bulldogs back to back aces to make it 23-8, before his third one was returned for Cloutier and Hinchcliffe to stuff home for game point at 24-8.
The Indians took game 1 by a 25-8 score.
The Bulldogs hung with Newington early in game two, staying within a two-point deficit at 8-6, but things started to slip away for Bulkeley when Cloutier and Hinchcliffe caught fire again. Before they knew it, The Indians had pulled ahead 16-7.
Game two would end 25-7, in favor of Newington.
The two sides traded blows early in the third game to a 4-4 deadlock. Lici put down a spike to put Newington up 5-4 on the next play. Cloutier followed up on the next volley, going up at the net with a Bulldog player and winding up for a power spike. The Bulkeley player took the bait and flinched slightly, as Cloutier finessed the ball lightly over him and just in-bounds to the right for the kill.
But the Bulldogs were not done yet. With a 6-5 score, two front players combined for a rare Bulkeley spike at the front of the net, leaving their feet and blocking Cloutier's attempt to make it 6-6.
The Bulldogs would actually go ahead 7-6-just in time for a little left-handed magic from Indians senior Josh Metzger.
His serving notched a game-tying ace, which was the catalyst for a 7-0 serving run to put Newington back in control at 14-6.
Lici's consistent offensive performance continued in game three, where he tallied three kills-all at the front of the net.
The Indians took the third game 25-15, on one final ace from Metzger.