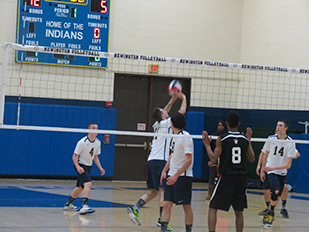 Newington Volleyball Continues Winning Streak
NEWINGTON - And the streak continues.
Newington High School boys volleyball (4-0) remains unbeaten with last Wednesday's victory, a three-game sweep over East Hartford High School at home.
Senior middle blocker Jon Cloutier led the way for Newington's frontline, tallying nine spiking kills over the course of the match's three games. The Indians have now swept three of their last four opponents, giving up only one game so far in a 3-1 win over Farmington April 14.
Newington's early success this season has been branded by dominance at the front of the net by blockers Flavio Lici, Nick Hinchcliffe and Cloutier, each of whom stand above six feet tall, Against East Hartford, it was no different.
Lici got things going for Newington in game one typical Indians fashion--a power spike over the Hornets front line for the early kill and 1-0 lead.
The senior would add an ace serving to put the Indians up 8-2.
Then, Cloutier got going. After Newington opposite hitter Evan Mach's serve was returned near the front of the net, the 6'4" senior answered, slamming the volley back over for a 9-3 Indians lead.
Cloutier would strike again, after a diving bump from a pair of players in Newington's second row saved the Indians from a sure East Hartford point. Instead, the volley continued long enough for one of Cloutier's fellow middle blockers to set the ball for him to spike over to make it 11-3.
The Indians would stretch the deficit to 15 points, taking the first game 25-10.
The start of game two suggested that the second round would be more even--the two teams exchanged kills to a 2-2 deadlock early--but then the Indians started running away with it again.
Lici set things in motion with a spike kill to snap the tie, and then Newington took the serve. With the Indians leading 4-2, Mach notched back to back aces, sparking a run that would eventually leave Newington in the driver's seat with a 15-5 lead.
Cloutier would catch fire again, tallying three of Newington's next five points from the front of the net. East Hartford would fall in game two by a 25-8 margin.