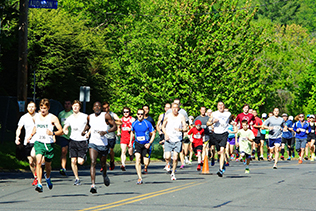 Another Successful Library 5K in the Books
The road race, with its flat, fast course that wound its way down Garfield Street and Walsh Avenue, up and down Audubon and Ashland and back up Willard before finishing the loop at Mill Pond, is a regular fixture on resident Lorraine Webster's spring calendar.
"I make the Library Challenge a priority on my spring schedule. This race is such fun and attracts people of all ages from so many different aspects of our community. It's a wonderful town function and the money raised goes to a wonderful cause," Webster said.
"The Lucy Robbins Welles Library provides an excellent service for our community. I think I've only missed one race and that was after I had broken my wrist. I visit the library often to take out books for reading and check out DVDs and books on tape. I do research projects there because the library is a great source of information. It's a wonderful meeting place if I have something to discuss with people and I enjoy using the library's museum passes.
"I worked at the library part-time in the old building at the Circulation Desk, putting books away and in the Children's Department when my children were young. I brought some of my classes to the library when I was teaching. I've also brought my children and my grandchildren to the library's family programs," said Webster, who taught for a total of 25 years, including 20 at Elizabeth Green and Chaffee schools, retiring from the latter.
"I've been running and using the library for such a long time. They're part of my lifestyle," said Webster, who finished first in her age group and 190th overall (33:40).
"What a nice community event," echoed John Webster after congratulating his wife on her finish. "It makes Newington one of those special places. I came to cheer on Lorraine and some of our friends. I saw people I know just enough to wave to and a fellow running with his family who always sits opposite us at St. Mary's Church. Lorraine is 70-plus and she's still got it. She wants to compete and I think it's spectacular."
According to Newington attorney and running enthusiast Kevin Mason, "This is the 16th time that I've served as race director or co-race director. I was a serious but not talented runner 18 years ago when the library board decided on a road race as its primary fundraiser. Since I was a member of the board, it was natural for me to be on the race committee.
"When the initial committee chairman stepped down before year three, I took over and when I decided to leave the library board six to seven years later, I told the board I would remain as race director as long as they wanted. Now that I'm no longer a member of the board, I coordinate with the Board Road Race chairman.
"The Library Board is involved in various race activities, from finding sponsors, securing raffle prizes, water and food, obtaining trophies and designing and ordering event t-shirts. Most, if not all of them, work the day of the race. Library Director Lisa Masten and Assistant Library Director Karen Benner have been involved in many tasks, such as designing the registration form, taking in the registrations, mailing out the yearly registrations, securing ambulance service and communicating with local newspapers for publicity. I'm sure there's more they do that I don't know about.
"Our long-time key outside volunteer, Ron Tramadeo, has installed the community and race signs, secured the police, the community center and bathrooms and the town road crew for safety cones. On race day, he sets up the water station, places the race direction signs out and puts the crew together for the road assignments to keep our runners safe," stated Mason.
"We usually have Newington High Key Club members, Library Board members and Lisa [Masten] and Karen [Benner] helping with the finish line, running new registration forms to the timing truck, running race results back to the Community Center, manning the water stations and helping with registration, t-shirts and food preparation on race day.
"Members of the Newington Amateur Radio League help man the roads on race day, particularly the busy intersections and help us with communications across the race course. We also have Mary Ellen Procko, who has been instrumental in increasing our race numbers by forming a race group called 'Procko's Pride' in honor of her late husband, Thomas."
Planning for the Library 5K begins in January and is usually wrapped up once the race is finished. "My job is made pretty simple by so many talented and dedicated people," Mason said. "I work with the timing company, with Active.com and with our web site for registration. I secure a few other web sites for advertising; enter the race registrants into our database; and then on race day, I put out the mile markers and cheer on our runners, many of whom I now know because they've been in so many of our races. At the end of the day, I get to stand up front, hand out the trophies and take credit for all the work that this amazing team does to put on what I think is one of the best road races around.
"I love the library and I'm an active patron. I mention it to every family who moves into Newington whenever I do a closing.
"Unfortunately, there's no way to run in the race as long as I'm a volunteer, and I don't anticipate stopping anytime soon, unless the Library Board decides it wants someone else to do the job."