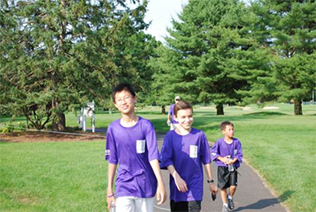 Pancreatic Cancer Walk Raises Over $100K for Research
"I started it just because I didn't want anyone going through what I have gone through. Having a [life expectancy after diagnosis] was hard. Losing him in three weeks was even harder," said Vose. "It's just a way for me to take a negative thing and turn it into something in his honor."
This year's 18-Hole Stroll will take place Sunday, June 22, beginning at 8:30 a.m., rain or shine.
Vose joined with the Lustgarten Foundation and Travelers to organize the 18-Hole Stroll, during which participants walk a three-mile loop around the course of the Travelers Championship at the TPC River Highlands Golf Course and enjoy a continental breakfast, entertainment, T-shirts, speakers and a silent auction. The admittance fee of a minimum of $40 tax-deductible donation per adult also includes entry to the Travelers Championship. Children ages 15 and under are $10.
"Once the walk is over, the tournament starts so they can enjoy the golf, too," said Vose.
The event usually draws at least 100 to 150 walkers, Vose said, many of whom, like Vose, have had loved ones affected by pancreatic cancer.
"We usually have a lot of family members come and even a few survivors come, which is very rare because there's only a 6 percent survival rate," she said.
Anyone is welcome to join the 18-Hole Stroll, either walking as an individual or a team or simply enjoying the food and entertainment. This year, participants are allowed to receive sponsorships for their walking.
Going into her sixth year with this event, Vose and the 18-Hole Stroll Committee have raised more than $100,000, 100 percent of which goes toward pancreatic cancer research. The team has nearly reached this year's $50,000 goal, currently standing at $28,000.
Travelers has been a generous partner for the event, Vose said, not only allowing the event to take place on Travelers-owned land, but providing a tent for the event and contributing a $25,000 donation for the second year in a row.
"They've given us a lot," she said. "They're really helping us push this event."
Advanced registration on online donations can be made at
www.lustgarten.org/travelerschampionship
or call 516-803-2304 or toll free at 866-789-1000. Day-of registration begins at 7:30 a.m. Sunday, June 22. For more information on sponsorship opportunities, contact Ann Walsh at the Lustgarten Foundation at 866-789-1000.