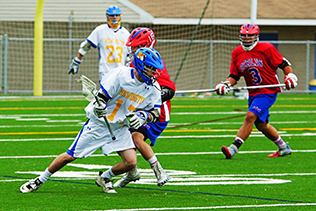 Blue and Gold Pride Shines in Senior Night Thriller
With just over a minute left in the final quarter and the game deadlocked at 9-9, the Newington fans came to their feet when junior attack Mike Hoyt's shot sailed past Redcoats goalie Matt Cote. With 16 nail-biting seconds left on the clock, NHS senior net minder Jeff Turner's save preserved the home team's lead. Turner then passed the ball downfield into the waiting net of Grant Ganley. The sophomore attacker iced the victory with his third goal to seal the 11-9 final score, snapping a six-game losing skid and sending the nine seniors, led by captains John Massaro, Mike Davies and John Oravetz, off in style.
"Winning on Senior Night is possibly the best feeling you can have in high school lacrosse besides winning the state championship," said senior attack Nate Kennedy. "This feels even better than I imagined. We won on my football Senior Night and I was pretty emotional after the game.
"Tonight was emotional, too. It's the end of the season for us. It's also the last time the nine of us seniors got to wear the NHS blue, gold and white," added Kennedy, whose first of three goals pushed the Indians to a 4-0 lead with 1:42 left in the first quarter.
"We're up 5-0 and then Berlin goes on a 5-0 run. We started to get down on ourselves. My teammates helped me a lot. I was really frustrated at the end of the second quarter and I made a stupid remark to a referee. Coach [Bowler] took me out for a quarter. I used my frustration with the score and because it was our last game when I went back in. We wanted to go out with a bang," said Kennedy, whose third goal pushed the Indians ahead, 9-7, with 4:24 left in the game.
"We started the season off strong with a couple of good wins. We also had a couple of games we should have won. We were on a slide for a while so it was good to bounce back and end the season with a win.
"John Massaro is one of the best athletes on our team. Billy Boyko has been a rock solid defender the six or seven years I've played lacrosse with him. He's joining the Air Force after graduation. John Oravetz had a great night with face offs. He was all over the field, getting ground balls and doing his thing. He missed a lot of the season so it was good have him back for our last few games," according to Kennedy, who will play lacrosse at Western Connecticut while majoring in secondary education in preparation for a career as a history teacher.
"Tonight was awesome. We had lost our last six games so I wanted to win and send the seniors off on a high note. The season has been a rollercoaster, so ending on a win is a good feeling. Tonight's win also sends us into next season on a positive note. Grant Ganley is one of our most improved players and came up huge for us. He'll be a huge asset to the team next season," said second-year head coach Kyle Bowler after the Indians finished up at 6-10.
"When we were up 5-0, I told the team, 'Don't get too relaxed with the lead.' We kind of lost focus a little bit. We needed to stay focused and do the small things and play like we can play. We regained our focus in the second half and we were able to get a win," added assistant coach Joseph Lovell.
Massaro admitted to being "a little nervous" entering his final scholastic contest.
"All that was on my mind was beating Berlin. I wanted to go out with a bang and lock down #13 [Cameron Criniti]. That was my goal," said Massaro. "I did not want to lose. I wanted to see us beat that losing streak.
"Our team usually plays a great first half. Then we have a let down in the third quarter before we pick it up in the fourth. Thankfully tonight we played well for four quarters. I thought the game was over when we were up 5-0. When it was 5-5, I was a little scared, but I like those kind of games. I like to be accountable for something. I like being the person who makes sure they don't score any goals and helps my team win the game.
"I love my teammates. [Sophomore midfield/attack] Ben Loura is the man. He's the smallest player on the team but he has the most heart and he's scrappy. Mike Davies is a great leader. He leads me more than I lead the team. Jeff Turner did a phenomenal job tonight in goal and Johnny Oravetz is the hardest working player on the team. It's been great having him back for the last few games.
"Playing lacrosse on the collegiate level has been my goal since I started playing in eighth grade here at Clem Lemire," said Massaro, who will attend Franklin Pierce University on a partial lacrosse scholarship and double major in criminal justice and political science.
"This is a great way to finish my Newington High School career. I'm going to miss Newington. I bleed blue and gold. I'll end on that statement. I bleed blue and gold!"