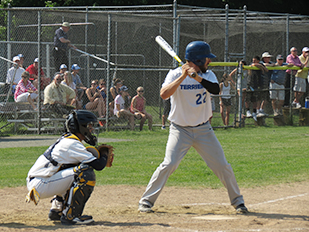 Terriers Advance to State Tournament Playoffs
ROCKY HILL - Rocky Hill High School baseball made a grand entrance to the state playoffs last Tuesday, with Spencer Bunting continuing the batting heroics that carried his team to an avenging victory over Edwin O. Smith and a number one tournament seed two weeks ago.
Bunting had two hits, including a first inning two-run double in the Terriers' 7-1 first round victory over the visiting Ledyard High School. Bunting, whose work on the mound held off Edwin O. Smith, left the pitching to Thomas Seaver, and he delivered.
Seaver pitched five shutout innings before a triple out to deep left put a runner on third base, setting the Colonels up to bring in their only run of the afternoon off an otherwise harmless hit into a double play.
The sixth inning could have been more damaging to the Terriers' lead. Seaver, who shut down the Colonels offense with a performance that included three consecutive strikeouts in the fourth inning, saw his first signs of trouble with the triple, which occurred between walking two batters. With the bases loaded and no outs, Rocky Hill was in a tight spot.
But the RBI grounder put two outs on the board for the Terriers, and Seaver took care of the rest, striking out the next batter to halt the Ledyard rally.
Seaver made his contributions at the plate as well. When he came up to bat in the bottom of the fourth inning, the pieces were in place for him to add to what was then a 3-0 lead. Brian Batalis had walked, and Andrew Jenkelunas had followed with a base hit. Then Batalis stole third base with only one out.
Seaver knocked a grounder through second and third base past a diving fielder to bring Batalis home and stretch the Rocky Hill lead to 4-0.
The Terriers would knock in another run when Brandon Grover doubled out to center in the bottom of the fifth, and a two-RBI shot to the same area from Batalis made it 7-0.
Rocky Hill took a 4-2 victory over North Branford to clear the second round that Friday.