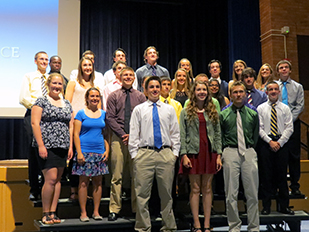 NHS Sports Awards Honor Standout Student-Athletes
NEWINGTON - When Newington girls lacrosse head coach Selina Quirion was going through her roster to pick a team captain before the start of this past season, one of her players came to her with an interesting request.
Brooke Hellman, who starred on both the lacrosse and soccer team, asked that her name be left out of the running because attending practices for two sports might cause her to, at times, be absent from the former. She thought that being named captain would be unfair to her teammates on the lacrosse team, Quirion said.
"Right then, I saw how much this team meant to her," Quirion said during the Newington High School athletic scholarship and awards ceremony in the building's auditorium last Monday night. "Which showed why she would make a great captain."
Evidently, her soccer squad thought the same thing, because she was at the helm of both teams her senior year. She played varsity for both sports for three years.
Stories like this, believe it or not, were not a rarity amongst an extensive list of students that formed 19 state championship qualifying teams and a roster of Academic All-Conference Team honorees that was too big to fit on one set of risers.
"That's a good problem to have," said Assistant Principal Dan Dias, as the first half of students cleared the risers and he prepared to read the rest of the names.
Even Hellman had some competition. There was Laura Buonocore, who just edged her to claim the Joyce Jamer Award for the best female athlete. A four-year varsity cross country runner, Buonocore captained her team her junior and senior season. She also ran outdoor track.
And they all stayed modest.
"Everyone's been working their butts off, and to be at the top is humbling," said Kurt Swenor, who was nominated for, and won the George Brinley award for best male athlete, during a video interview shown during the ceremony.
Christian Zotti, a four-year varsity wrestler and three-year varsity football player who was also nominated as a George Brinley award finalist, echoed this sentiment.
"I know a lot of people who in past years have been top athletes, and to be up there with them is an accomplishment," Zotti said during his own video interview that was shown.
For Zotti, it was an accomplishment born from a 158-28 wrestling record over the course of his high school career--one that garnered him the Richard Hastings III Memorial Scholarship, an award named after Newington High School wrestling's founder.
Swenor, a three-sport student-athlete in soccer, track and field and swimming, credited his success to Newington High School's coaches.
"They know how to talk to you," Swenor said. "They come down to your level and see eye-to-eye with you."
And what's talent without class? The ceremony also saw the naming of the CIAC Career Sportsmanship Award winners, Hellman and Alex Skonieczny, a soccer player and wrestler.
"For the last four years, this man has been an asset to Newington High School and its athletics," said head soccer coach Jeff Brunetti of Skonieczny. "When he knocks an opponent down, he is the first to extend a hand to help them up. He has an innate ability to lead his team."