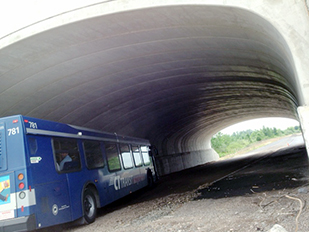 Officials Tour CT Fastrack Route Mid-Construction
NEWINGTON - Connecticut residents won't ride the CT Fastrack bus way until March 2015, but two weeks ago town officials, members of the Capitol Region Council of Governments (CROG) and reporters got a first look at the 9.4-mile route that is slated to finish with its construction phase this October.
Led by Mike Sanders, CTFastrack administrators took the group on a tour of the route, which runs primarily along I-84 between New Britain and Hartford. Two Newington stations--one at Newington Junction and the other at Cedar Street--are part of the project's plans.
The buses, which will be equipped with wireless technology, are not ready yet, so the group had to settle for a CT transit blue bus, but it got an idea of what traveling along the route's dedicated guide ways will be like.
As the group got ready to leave the American Museum of Art in New Britain, the tour's starting point, Ron Dressler of Dennis PR Group, who drove behind the bus with members of the media, reported on the traffic outlook for the afternoon.
"We're hearing heavy traffic on I-84 East," Dressler said. "So it could be a good chance to put the guideways to use."
I pictured something similar to a carpool lane, but there's more to it than that. The guideways are actually their own exclusive bus roads. There are about two dozen other fast transit bus systems throughout the country--in Southern California, Cleveland, and Minneapolis, to name a few--and they all have different ways of going about this component, according to Dressler.
"There are others that have a dedicated lane instead of a dedicated roadway," he said as we tailed the bus along I-84 East, where traffic has cleared up. "This is much better. On that dedicated lane, you still have a lot more crosstown traffic. We don't have that, and you can go faster."
At Hamilton Avenue in Hartford is where we first entered the guideway to head toward the Flatbush station.
"It goes right into New Britain," Dressler said. "Some people don't think this is big enough for two buses going both ways, but it is."
And Flatbush might be a busy station, seeing as it will be one of the largest next to the one at Newington Junction.
"This'll be the most used, because it comes right up with the Hartford to Springfield rail," Dressler said. "They'll be sharing this station. Not right away, but eventually."
The same goes for the station at Newington Junction, the subject of an ongoing local study designed to explore development opportunities for the area. Over at the Cedar Street station, which is a stop over, plans have already been made to tear down the former National Welding building with the help of a $2 million state grant.
As the group walked the unfinished Cedar Street station grounds, Deputy Mayor Clarke Castelle noted that the site might benefit from more parking. He looked over at the abandoned National Welding building towering just behind the station.
"We could have a developer build an office building and use the first two floors for parking," Castelle said.
With a $567 million cost, CT Fastrak has been a controversial project. Now that it's on its way, towns like Newington will continue their own discussions on how to best develop the areas the bus way will run through. While Sanford hopes that ridership eventually reaches around 100,000 people per day, he says that it is the economic development component that will be the best indicator of the project's success.
"It doesn't matter that much," Sanford said of ridership. "There are a lot of other benefits to transportation projects. There's access to jobs, education, and healthcare. The transportation itself doesn't turn a profit, but hopefully society does."