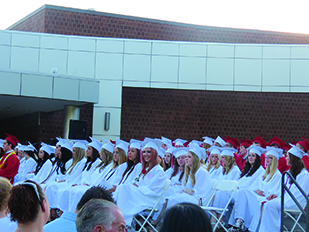 Cromwell High School Graduates 128
For University of Chicago-bound Glynn, the culmination of her high school career was a time to both reflect and look forward.
"It is only at the end of a journey that you can look back and see all that you have accomplished," Glynn said during her speech. "Class of 2014, now that we are at the end, I want you to look back at everything we've been through, not just as a class, but in life…Embrace this and celebrate it. You deserve to."
Class Valedictorian Emily Bacon, who is headed to Bates College in the fall, was looking forward.
"Our time here at Cromwell High School has taught us many things…These tools are all we need to go out and be successful in this world," said Bacon, adding that her graduating class has come together over the past four years for several causes, including supporting two classmates with cancer.
Principal Frances G. DiFiore began as principal at CHS in the fall of 2010, when members of the Class of 2014 were just entering as freshmen.
"I consider them 'my class,'" said DiFiore, adding what she will most remember about the class is their courage. "We have weathered the path of change together."
CHS English teacher Debbie Sanders, the district's teacher of the year and the keynote speaker of the evening, offered a humorous, heart-felt checklist that students would need for their future. The first was a book, for continued learning. Next was a passport for, of course, traveling the world. Third was a mirror for self-reflection. Thank-you notes were fourth, so students would always "be appreciative of the people who help you along life's routes." Fifth was aloe, "for the burns in life." The final item was a heart. "Love yourself, love another and love others," Sanders said.
Bacon's speech included just one item on the checklist going forward: Determination.
"The key to having a happy and successful life is having the motivation and ambition to chase your dreams," she said. "It doesn't matter where you find your happiness; the point is that you find it."
Cromwell High School Class of 2014:
Meghan Rose Ambler, Jamileth Yahaira Anes-Diaz, Emily Paige Appleby, April Lynn Armetta, Kwabena Asante, Emily Elizabeth Bacon, Nadeige Mychell Bailey, Myah Jintong Bartolotta, Alexandra Patricia Beauchemin, Connor David Belcourt, Kayla Marie Bendell, Timothy Joseph Bertucio, Bryce Mathew Blaisdell, Kevin William Braun, Matthew Frederick Bucher, Abria Jyelle Burney, Antwaum Julian Burney, Jeffrey Thomas Cameron, Gianluca Anthony Caroso, Ashley Marie Castelhano, Tyler James Catenzaro, Shannon Miriam Ceccarini, Saida Cecunjanin, Haley Lynn Cepelak, Joseph Anthony Chaves, Vivian Tran Chu, Ryan James Colandrea, Bethany Lynn Colon, David Andre Corriveau, Benjamin Theodore Coughlin, Summer Anne Couto, Haruki Marion Cubeta-Yonamine, Shant Darakjian, Mihir Dave, Savannah Marie Davis, Maciej Krzysztof Dawidowski, Cortney June Delisle, Erin Julia Del Valle, Ian Andrew Dickinson, Katorah Nicole Dillahunt, Joseph Kent DiVicino Jr., Megan Diane Falasco, Caitlyn Elizabeth Fecteau, Caitlin Finnemore, George Richard Fischer, Sebastian Salvatore Fortunato, Erin Claire Glynn, Melissa Leigh Goodrich, Jordan Lynn Grafton, Joshua Randall Grafton, Justin David Grant, Jauschwann Fredrick Green Jr., Biagio Samuel Gurciullo, Kejsiana Hajdini, DeAndre Odell Hamblin, Michael Henry Hamlin, Catherine Lois Hampton, Janelle Denise Harrison, Stephanie Marie Hartnett, Adela Margarita Hatton, Ryan Mark Hopley, Ashley Bryanna Jones, Adam Kanakis, Aaron Patrick Kelleher, Luke Michael Kempf, Liam Andrew Kenney, Christopher Trong Le, Malorie Leone, Logan Andre Lessard, Justin Michael Loveland, Dayanara Arely Lopez, Michael F. Machinchick, Amanda Rose Mandeville, Michael Marchese, Shawn Thomas McBride, Samantha Marie McKelvey, Michael Robert McNally, Julie Rose Messier, Gerek Michnicki, Megan Caroline Nazzaro, Elizabeth Guadalupe Novoa, Kaitlyn Mariah O'Toole, Carly Rose Orlacchio, Kayla Nicole Ortiz, Michele Giuseppe Pansini, Melissa Catherine Paulus, Erik Henry Peck, Nevin Ryan Picard, Zachary Dillon Pillarella, Taylor Stella Polizonis, Nicole Elizabeth Poole, Kelly McKenzie Potter, Kaitlyn Elizabeth Powell, Kevin James Radziewicz, Jake Anthony Regula, Fiona Reidy, Nicole Alexandra Reiman, Shannon Rich, Nicholas Attilio Risley, Nicholas Frank Rizzo, Carissa Destiny Robinson, Mariaclare Sarah Rowland, Tyler Jordan Rudolph, Brandon Nicholas Santana, Michaela Mairead Savinelli, Kyle Edward Schmidt, Lauren Elise Schmitt, Tamara Yvette Scott, Shelby Simons, Allison Christine Sirois, Abigail Catherine Sousa, William Anthony Spada, Taylor Ann Stergos, Amber Michele Stocking, Kelly Elizabeth Swzaja, Brianna Hope Tulin, Matthew Kendall Turkington, Morgan Nicole Varriccio, Sierre Lucille Vasquez, Jonathan S. Weaver, Rachel Elizabeth Weber, Cori Keith Winston, Zachary Matthew Wolak, Stephanie Melissa Yanaros, Kevin Michael Yawgel, Jonavon Thomas Zabek, Megan Pamela Zazzaro, Victoria Ann Zeilor.