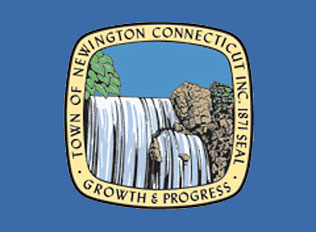 National Welding Demolition Grant on the Council Table
NEWINGTON - A $2 million state Department of Economic and Community Development, (DECD) grant for the demolition of the abandoned National Welding building near the future Cedar Street Connecticut FasTrak busway station is on the Newington Town Council table for acceptance.
The Council will officially take the vote to close the deal when it reconvenes for its July 22 meeting, after press time, and Newington Economic Development Director Andy Brecher expects work to take down the building to begin by the end of August.
"This is the classic case of pushing the boulder uphill," Brecher told reporters outside Council Chambers following a presentation he gave regarding the next steps for the building. "Anytime you can push it up a little higher, it feels good."
And sometimes, it rolls back down a little bit, Brecher said. This was the case when it came to recent inspections of the site--additional PCBs have been discovered along a wall of the building, he told the Council.
It's not much-between 30 to 50 feet of paint-but it's enough to require abatement, Brecher said.
"It just means that there's an additional form that will have to be filled out with the EPA," he said.
Manchester-based environmental engineering firm Fuss & O'Neil will be doing some other additional paperwork. The firm is applying for Connecticut Department of Health approval for Alternative Work Practice, a designation that will allow them to take down the former National Welding building without surrounding it in a costly tent-like containment structure, according to Brecher.
Normally, such a measure would not be out of the norm, but the former National Welding building's size and scope makes the task complicated, Brecher said.
"You've all seen structures with a tent containment around it," Brecher told reporters after his presentation. "It's another thing to put a containment around four acres. It's 60 feet high. You'd have to have ventilation. What this does is eliminate the need to build a giant tent around the building."
If Fuss & O'Neill get the go-ahead from the Department of Health, the demolition will proceed in a slow and steady fashion, Brecher said.
"They have to take it apart bolt by bolt," he said. "So you won't see any wrecking balls. You'll see a lot of staffers, [and] hoses."
Meanwhile, the town will prepare to begin exploring its options for what will go up in its place--a question Brecher admitted has not been the primary focus so far.
"We have not spent a lot of effort on that at this point, because all of that [effort] has been spent on [the demolition]," he said.
When that discussion begins, Newington will have a development consultant in Capitol Region Development Authority (CRDA). The Council voted 6-2 to enlist CRDA to advise on transit oriented development projects-a definition that includes residential, commercial and industrial development within one-mile of a bus station-back in February.
A 10-year period of transit oriented development use was one of the conditions attached to the town receiving the grant money.
"Developers aren't moving until they see that building come down," Brecher said. "They won't give you any proposals--they know environmentally contaminated buildings take forever to come down."