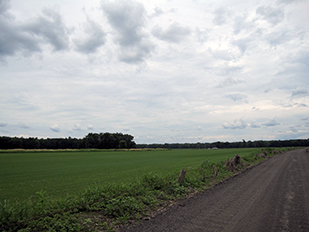 Summer Fitness Series: Running Rocky Hill
ROCKY HILL - There are several places to go in and around Rocky Hill if you're looking to work up a good sweat. Whether you enjoy running, biking, or just want to head out for a leisurely stroll, the town has several routes that can help you scratch that exercise itch.
The Silas Deane Highway offers a good option for those looking to get outside and burn calories while enjoying the sites of beautiful downtown Rocky Hill. The long stretch of highway offers wide sidewalks on both sides of the street with plenty of businesses to keep your eyes busy as your muscles work their magic. It is also a conduit to several side streets, which provide exercise enthusiasts many options for scenery changes.
However, those looking for the best scenery should look no further than the Rocky Hill Meadows. This is the best place in town to get your arms and legs pumping without having to worry about dodging the traffic filling the local roadways daily.
The meadows can be easily accessed from Ferry Park, which offers ferry service between Rocky Hill and Glastonbury and is the oldest running ferry service in the United States. It is here that you can enjoy the glistening glow of the Connecticut River before setting out for your jogging journey. Parking at the park is plentiful and, most importantly, free!
Just beyond the ferry launch is the beginning of Great Meadow Road, which is where your fun run will start. The road is mostly loose gravel and is shared with motorized vehicles, but there is enough space for everyone, including the occasional deer or other forms of wildlife that can been seen along the trek.
The road is open from dusk until dawn and, although the route is mainly farmland, it offers a variety of sights and sounds for those who love the distraction while working off that second helping of Aunt Ethel's pork belly macaroni salad.
About a mile and a half into the run you'll have a chance to witness a small-scale airshow put on by local aviation aficionados. Weekend warriors gather during the mornings and afternoons to launch their remote controlled model aircrafts. It's your chance to see airplanes take off and land without the annoyances of airport security telling you to remove your running shoes. This is also the one spot on the trail where port-a-potties dwell, so plan accordingly.
After the pint-sized airport, you can continue down Great Meadow Road or you can turn left onto North Meadow Lane, which will take you past one of the only places in the state for motocrossers to rev their engines. You can dash by as motorcyclist jump their bikes over a series of dirt mounds. It's just like the classic arcade game 'Excitebike'-- only real!
If you choose to skip the motocross excitement, you can stay on Great Meadow Road, which eventually veers left onto Elm Street Extension, Wethersfield. This segment of the trail runs alongside the majestic Connecticut River and offers the tranquil sound of flowing water. This section of the route is also well-shaded and the ground becomes sandy. Elm Street Extension eventually forks and, if you continue down Elm Street, you'll end up at the historic Wethersfield Green.
If you take a right at the fork, the road turns into 2nd Lane and you'll reach a "T" intersection, where it becomes Great Meadow Road again. If you go right at this point you will encounter a shooting range, normally occupied by several people in camouflage. If you choose to go left, you'll eventually find yourself within a stone's throw of the Wethersfield DMV.
Overall, the entire trail is very pleasant and can be enjoyed by people of all fitness levels due to its relatively flat terrain. It is also a great place to bring your dog for a walk or watch the sun set over the high tree line as you channel your inner child by testing out that new pogo stick.
Here are a few considerations before setting out on your exercising excursion:
With shade and water comes bugs, so don't forget your repellent or a full-body running net.
Although the trail has plenty of shade, do not assume that the humidity level is lower. The unique tree coverage creates a tunnel of humidity that makes it feel like you're traveling through the Amazonian Jungle.
The road is well-maintained, but there are some potholes, so lace up those sneakers really tight to avoid the dreaded ankle sprain.
During dry and windy days there may be a lot of dust, especially near the motocross track. There is no way to avoid this and it's best to embrace the dust by pretending like you're starring in the latest version of Mad Max Beyond Thunderdome.
Several of the drivers on the roads are birding. They drive very slowly and stop frequently. They are harmless and are just looking to capture a rare Pectoral Sandpiper through their state-of-the-art binoculars.
During duck hunting season there will be several people, dressed like Elmer Fudd, training their hunting hounds in the open fields. They carry rifles. Whether or not the guns are loaded is anyone's guess.
During corn season the farmers will have automatic air guns, set on tripods, randomly firing blanks. Rest assured that no one is shooting at you; it's merely a decoy to prevent those pesky birds from eating the precious corn stock.
In the fall, the Rocky Hill Fish & Game Club puts on a Turkey Shoot every Sunday, so leave the feather-covered Under Armour at home on those days.
Now that we have covered all the bases it is time to go out and enjoy some summer fitness in Rocky Hill. Happy running and remember to yield to the wildlife, because the deer that you save may be your own.