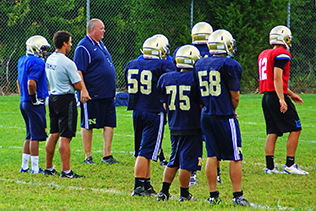 Hennessy Brings the "IT" Factor to Newington
When Travelers Insurance informed Hennessy's wife Amy that the company was relocating her from Chicago to the Hartford area, they viewed the impending move as "exciting. It was a very big opportunity for my wife. I was in my fourth year as an assistant football coach and recruiting coordinator at Concordia University in Chicago, and the move would give me the opportunity to get back into high school and be a head football coach. It's something I had wanted to do and I was able to do it sooner rather than later.
"I started looking around and doing some research. I called some east coast college coaches and asked them what high schools they would coach at. They kept saying that Newington was a sleeping giant," continued Hennessy.
"The Newington coaching opportunity was there along with the right teaching position. The high school was starting a new Academy of Information Technology and Digital Innovation, and I was offered the opportunity to teach principles of information technology, which sealed the deal. I'm having a lot of fun teaching during the day and then making the transition to the football field.
"I fell in love with Newington's vision for education--for developing character and getting students college ready, even if they choose not to attend college.
"When I was hired in March, I felt it was important to get to Connecticut quickly. In early April, I loaded the car, left my family, drove out here and lived in a hotel. I missed my wife and children, but I knew they would be joining me. I needed to get here and start work right away to get to know the players," according to Hennessy, who had never been to Connecticut before his interview.
"I didn't promise to win games and championships. I promised to surround the team with the best possible adults, and we have that in our coaching staff, whose main focus is to be a change agent in the lives of our young people. I made that my soapbox during the interview process and when I met with parents, players and community members. The players will be able to model appropriate behavior and learn to develop as men.
"Academics are number one and our top goal is to raise our grade point average. When I left my first high school head coaching position, the team GPA had risen from 1.75 to 2.8. That's been my proudest achievement," said the 42-year-old head coach.
Hennessy accepted a position as an assistant coach on the Leesville Road High School staff in North Carolina right out of Columbia College, where he cut his teeth and worked his way up to offensive coordinator.
Stops at Southeast Raleigh (NC) High and Elmwood Park High (2005-08) in the Chicago area followed. When the Michigan native decided to leave scholastic coaching and enter the realm of coaching full-time on the collegiate level, the short move took him from Fenwick High to neighboring Concordia University in 2010.
"I went to get my PhD in football. I started out as an assistant coach [offensive line] at Concordia and then added the responsibilities of recruiting coordinator."
Hennessy, the coaching staff and players headed to Niantic in late August for a short training camp, "away from distractions so we could concentrate on football. It was an opportunity for the players to learn to live with each other and work with each other. That time away helped develop the chemistry on our team. We were able to accomplish a lot in just a couple of days."
It was also a chance for the players and brand new varsity coaching staff to find their chemistry.
"None of the previous coaching staff was fired or asked to leave. Some of the assistants chose to go to Manchester to work with coach Roberts, and I get that, so we're starting fresh," he said.
"I'm blessed with a good staff of high character guys. Each one has a similar mission in life--to basically be a change agent in young people's lives," he continued. "Yeah, I want to win as many games as possible, but the coaches and I are in this because we want to help these young men become future leaders. Our main focuses are to teach the players to do the right things and teach them the skills and discipline needed to prepare them for life.
"Our players also need to learn to prioritize their lives. They need to put family at the top, school second, football third and themselves fourth. When they have their priorities in the right order, they can accomplish great things. I tell them football shouldn't be the most important thing in their lives."
According to Chris Meyers, director of NHS athletics and student activities, "Eric not only displayed his elevated football IQ during our interview sessions, but he focused his time on the development of character and how doing things right off the field will equate to good performances on the field.
"Though he began teaching on Wednesday, Aug. 27, when the kids reported, he had been acclimating himself around the school community to his curriculum and also in the weight room for the football players since April."
The key to Newington's success, acknowledged Hennessy, will be "defense. That's how championships are going to be won. We'll put the best possible players out there so we can stop people. Everywhere I've been, every team I've been associated with, the defense has been dominant and shut people down. That's where our focus needs to be. Our number one priority is to have the best defense in the area and, eventually, in the state.
"We'll move fast on offense--no huddle, always attacking. We'll spread the field vertically and horizontally to put our opponents' defenses in as much conflict as possible. We'll stretch and use the field so that their defenses can't cover every area on the field," stasaidted Hennessy.
"I grew up in Lake Orion, MI, so I guess I favor the Lions. I'm not the kind of guy who sits down and watches a lot of football on Sunday. I'll flip the channels through a little bit, but really I just don't watch much football, so my favorite team is Newington. When I was offered the NHS position, I told my family our new favorite colors are navy and Vegas gold."