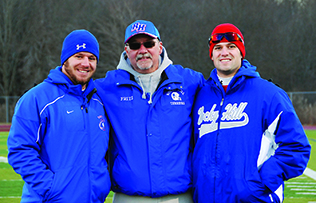 Rocky Hill Football- A Family Affair
Mark Fritz, a 2006 graduate well-steeped in the history, traditions, milestones and accomplishments of Terriers' football, had returned to the football fold in the spring of 2010 and began his first full year as an assistant coach in 2011 after graduating from Central Connecticut State University with a degree in exercise science.
The three-sport standout was already waiting on the McVicar Field sidelines, "for the only head coaching job I've ever wanted. This is where I want to be. It was the only job I applied for.
"It's an honor to be named the second head football coach of the Rocky Hill football program," said Fritz, who excelled as a running back and linebacker for Coyne. The team's MVP as a senior and top defensive player as a junior further distinguished himself by earning all-conference honors his final two seasons.
"This is a very exciting time. I'm fortunate that Rocky Hill has given me this opportunity. I couldn't be happier," said Fritz. "I prepared for the interview by talking to high school and college coaches I'm close with. I picked their brains and learned as much as I could from them. When I went in to the interview, I knew I was ready.
"The first thing that went through my mind when I was named head coach was that I have a lot of work to do. I was a little unaware of how much paperwork and behind the scenes stuff that goes on being a head coach, like ordering equipment and managing a budget, and bigger things like dealing with parents and players. I knew about some of it, being an assistant, but when you're the head coach, there's so much more on your plate," he said.
To say that Fritz's plate is piled high is an understatement, but he wouldn't change a thing.
"I get up at 5 a.m., go to the high school and lift with one of the phys. ed. teachers from 6-7 a.m. Then I head over to CCSU. My first class is at 8 a.m. I have class through to 1:30 p.m. and our Rocky Hill football practice starts at 2:30. I don't get home until about 6:30 at night. I also have a class on Mondays from 7-10 p.m.
"Yes, I'm busy," said Fritz, who's pursuing teacher certification in physical education, "but I'm where I want to be, doing what I want to do. If all goes as planned, I'll be student teaching next fall and then I'll be finished with school. Since you can't student teach at the school you went to or the school you work at, anywhere close enough to get to practice on time will be fine with me."
Fritz comes from a football family that has been a part of the Terriers' gridiron milestones.
"I was in the stands watching my brother Eric play quarterback when the program got its first win. I was a team captain when we earned our first playoff berth and had our first winning season. I was an assistant coach when we got our first playoff win in 2013 against Prince Tech."
His father, Larry, a member of Coyne's inaugural coaching crew in 2000, has been a fixture on the sidelines for each of the program's milestones. He retired for a short time after last season.
"My father was a little reluctant when I asked him come back and be our offensive coordinator. He wanted to enjoy his retirement, but I roped him back into it," Fritz said with a grin. "It took me a little while to coax him out of retirement, so I'm very happy that he decided to come back.
"He's the best coach and the most influential coach I've ever had. He's the one who got me interested in sports, making sure I was playing for the right reasons--having fun and being around my friends.
"My dad will also be a great resource. If a situation or a scenario comes up, I can ask him about it and, chances are, he's been through it. Dad is the team historian and stat keeper. He has every stat of every player who's ever played at Rocky Hill in a filing cabinet at the house.
"My mom [Rena] started taking pictures from the sidelines when my brother was a freshman in 2000 and has been doing it ever since. She would give the photos to coach Coyne so he could post them on the door of his office for the kids to see. The door quickly filled up and her photos eventually took over the neighboring doors and walls, too," according to Fritz.
"When I realized that I was interested in coaching, I was playing ball at Central Connecticut and the first thing that came to mind was how great it would be to be able to coach my alma mater. If there's any pressure, I welcome it because this is where I want to be.
"I was fortunate to become close with a few of the CCSU coordinators--Ryan Nielsen, Rod Boykin and Frank Forcucci--during my time as a Blue Devil. I was introduced to the world of coaching because of a couple of injuries. Coach Nielsen took me under his wing and really opened my eyes to what coaching football is really like and how much a coach can impact someone's life," he said.
At 25, Fritz has the distinction of being among the youngest head football coaches in the state and possibly the youngest.
"I don't think my age matters. People will look at my age the way they want to see it. The kids have had a great response to it. I can relate to them very well. I graduated high school not too long ago, so I can relate to a lot of things they're going through. I think we have a good dynamic.
"I don't want it to be about me. I want it to be about the kids. I had my time playing and I want the kids to enjoy theirs. I want to keep the program going in the right direction," said Fritz, who plans to keep the emphasis on the student in student-athlete.
"I learned that student comes before athlete for a reason. Academics are much more important than football ever will be. Eventually everyone stops playing football. I tell my kids to compete in everything they do. I want them to compete to be the best student they can possibly be in the classroom. I want them to compete and do their chores the best they can at home. I want them to compete and perform the best they can on the football field.
"If our kids are competing in everything they do to be the best person they can be off the field and to be the best football player they can be on the field, then I think we'll have great success with the program."
Fans can expect to see the Terriers' offense line up in the familiar Wing T.
"Our offensive scheme will be very similar to what coach Coyne had installed. I played in that offense and coached in it for a few years, so I'm familiar with it. We've had such great success in the past running the double tight, double wing. We're comfortable with the Wing T. It fits our team and our kids, so it didn't make sense to change it," Fritz said. "We seem to get a good number of running backs come through, and with the Wing T, we're allowed to have three of them on the field at the same time."
On the defensive side of the ball, Fritz acknowledges that the Terriers "are young, but we'll play fast and aggressive. It'll be a week-to-week thing. We're going to try and take away what our opponent's offense tries to do best. If a team runs the ball well, we're going to try and stop them from running it. If a team likes to throw it, that's what we're going to focus on. Trying to take away what the other team wants to do has always been what I've hung my hat on as a coach. If we get our opponents out of their comfort zone, we can start to dictate what they do.
"Coach Coyne has been great. He's made it a very easy transition. He's helped me out tremendously. As far as replacing him, you really can't do that. He was the face of Rocky Hill football for so long. I have very big shoes to fill, and I'll do my best. That's all I can do."